School Meals - a Pediatrician's Perspective
Have a Need that is Not District-Wide?
Grant funding may be available through Fuel Up to Play 60. To Qualify for funding, schools must:
1

Enroll in Fuel Up to Play 60.

2

Have a registered Program Advisor.

3

Participate in the National School Lunch Program.
Seasonal Cycle Menus created by Chef Brenda

Dairy West collaborated with Chef Brenda to create a Spring and Winter Breakfast Cycle Menu. These menus include everything needed to meet USDA requirements for the NSBP.
Chef Brenda's Recipes
Our Unbottled Branding in Schools
We are excited to announce our Unbottled Branding for schools! These eye-catching marketing pieces make a great addition to your cafeteria. Contact your consultant today to find out how our Unbottled Marketing can change the look of your program.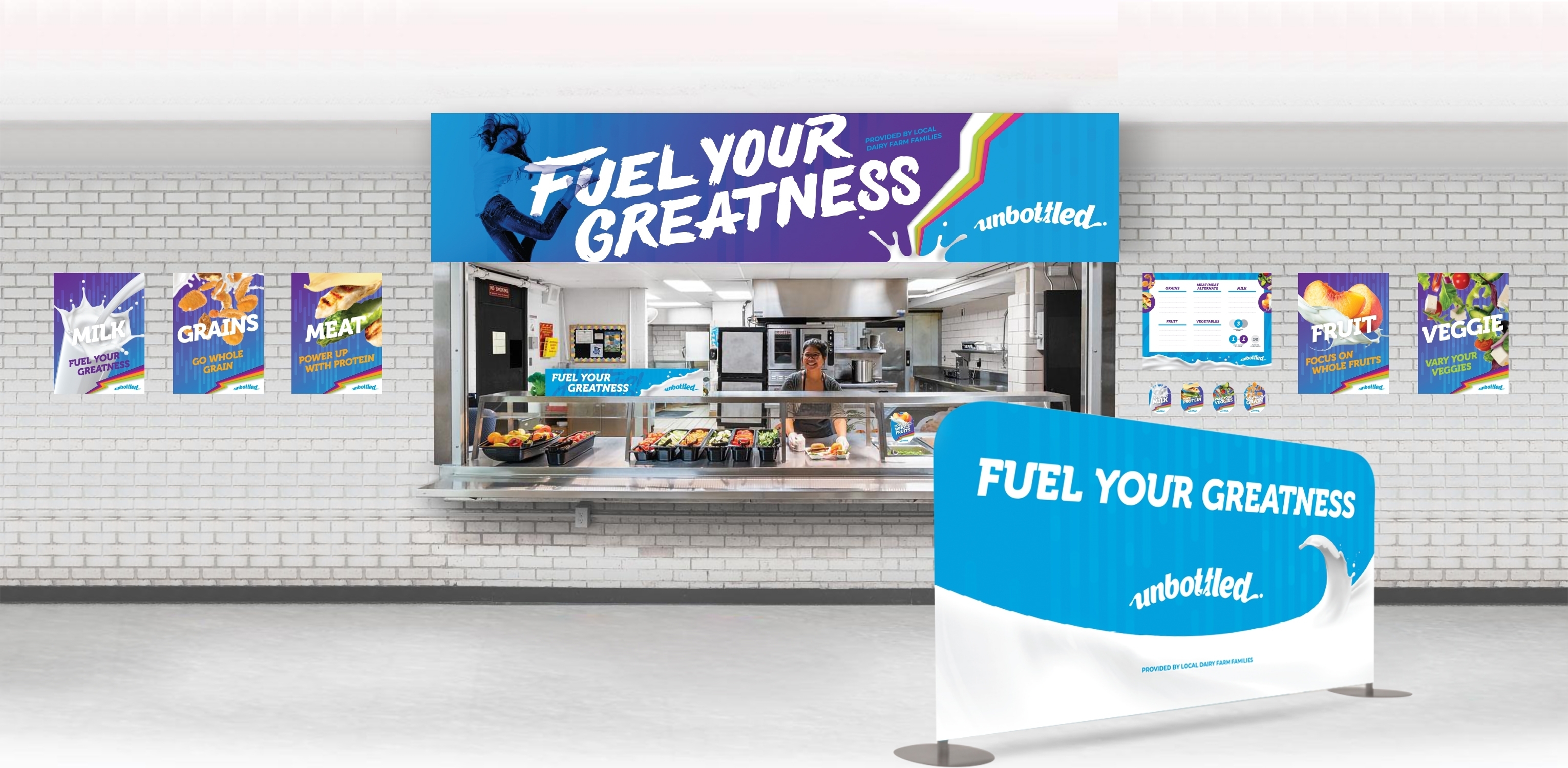 How Do We Partner with Schools?
Dairy West works closely with school districts to help expand participation and programs. Whether you are thinking of adding a breakfast program, a smoothie line, or are focused on merchandizing milk for higher consumption, we are ready with resources to help. Take a closer look at how we have partnered with schools throughout Utah and Idaho.
Shadow Butte Elementary
Idaho was one of five states to receive a recent No Kid Hungry grant to begin a breakfast in the classroom program. Dairy West teamed up with the State Child Nutrition Department and other stakeholders to work with Shadow Butte to implement breakfast after the bell. After only a few weeks, the results show the impact that breakfast has on our students:
Participation increased from 25% to 83%
Behavior referrals went down by 16%
Inappropriate behavior was down 55%
Read More



Looking for a fun way to communicate with parents or students?
Take a look at our templates. These backgrounds are available in three sizes to fit every platform you may need. Need more help putting these into action? Contact your Dairy West Consultant!


Breakfast Champion Videos
There's a reason they say breakfast is the most important meal of the day, and we work with schools to ensure students receive the benefits of breakfast.
Breakfast Champion Videos
Looking for Additional Resources
Idaho Breakfast Cohort
Dairy West is working closely with the Idaho State Department of Education and No Kid Hungry to expand breakfast at chosen pilot sites. Participation in this program has increased at all of the pilot schools. New pilot sites will be chosen by the Breakfast Cohort as Dairy West continues efforts to expand Breakfast After the Bell in Idaho. For more information, visit the ISDE website.
Learn More
Utah Start Smart Website
Dairy West partnering with the Utah State Board of Education, No Kid Hungry, and the Utah Breakfast Expansion Team to change how school breakfast looks across the state. This team has worked to make breakfast available for all schools. Breakfast After the Bell has been added to many Utah schools, with more to come. For more information, visit the Start Smart Utah website.
Learn More