Do You Want to Make a Change Across Your School District?
We want to partner with you…
Fuel your School
Let us work hand in hand with you to expand programs. Choose one of these options or help us create a custom plan that is suited best to your district.

Expanding Breakfast
Breakfast in the Classroom
Students will eat breakfast in their classroom after the official start of the school day. Students or staff deliver breakfasts to classrooms from the cafeteria via coolers or insulated rolling bags. Breakfast in the Classroom takes 15 minutes on average. Moving Breakfast After the Bell and into the classroom makes breakfast accessible for all students. Participation increases to an average of 73%.
Grab and Go
With Grab & go models, students pick up convenient pre-packaged breakfast either in the cafeteria, or from mobile carts in high traffic areas, such as hallways, entryways or cafeterias. Students can eat in the classroom, common areas, or elsewhere after the bell has rung. On average, schools that begin this program see a 63% breakfast participation. This model can work in elementary and secondary schools.
Second Chance Breakfast
Students eat breakfast during a break in the morning, often between first and second period or midway between breakfast and lunch. Schools can serve breakfast using a Grab & go model, or they can open the cafeteria to serve breakfast during the break. Second Chance Breakfast can be effective for middle or high school students who may not be hungry first thing in the morning or prefer to socialize with friends.
Menu Expansion
There are many ways to expand your programs and increase participation. These added programs may be supported by Dairy West. We can work side by side with you, providing the resources to ensure success.

Hot Chocolate Milk
Hot chocolate milk is an easy way to add a specialty drink to your menu. This will increase your participation, especially on cold mornings. We offer, to qualifying schools, a kick-off package as well as equipment to provide you a trendy addition to school mornings.
Latte/Smoothie Bars
Students are looking for a coffee shop feel in cafeterias. Being able to grab a latte or smoothie as they head into school means the cash flow stays in your program. Your Dairy West Consultant will work closely with you to show you our cutting-edge marketing package and equipment needed to add this impactful line to your school.
Optimizing School Meals
These days, grab-and-go lunch and mobile options are essential. Let us guide you through the multiple options available to qualifying schools to increase efficiency, mobility, and food safety.
Create a Custom Plan
Not finding what you're looking for? Your Dairy West Consultant can help you develop a plan that meets your district's specific needs. We look forward to partnering with you.
Have a Need that is Not Disctrict-Wide?
Grant funding may be available through Fuel Up to Play 60. To Qualify for funding, schools must:
1

Enroll in Fuel Up to Play 60.

2

Have a registered Program Advisor.

3

Participate in the National School Lunch Program.
Seasonal Cycle Menus created by Chef Brenda
Dairy West collaborated with Chef Brenda to create a Spring and Winter Breakfast Cycle Menu. These menus include everything needed to meet USDA requirements for the NSBP.
Chef Brenda's Recipes
Our Unbottled Branding in Schools
We are excited to announce our Unbottled Branding is making its way into local schools. As we partner with schools in our two states, we will be working to add equipment pieces as needed with Unbottled branding included. If you love the look of these pieces, contact your consultant! We will work to connect you with vendors who can include this impactful branding on your new equipment.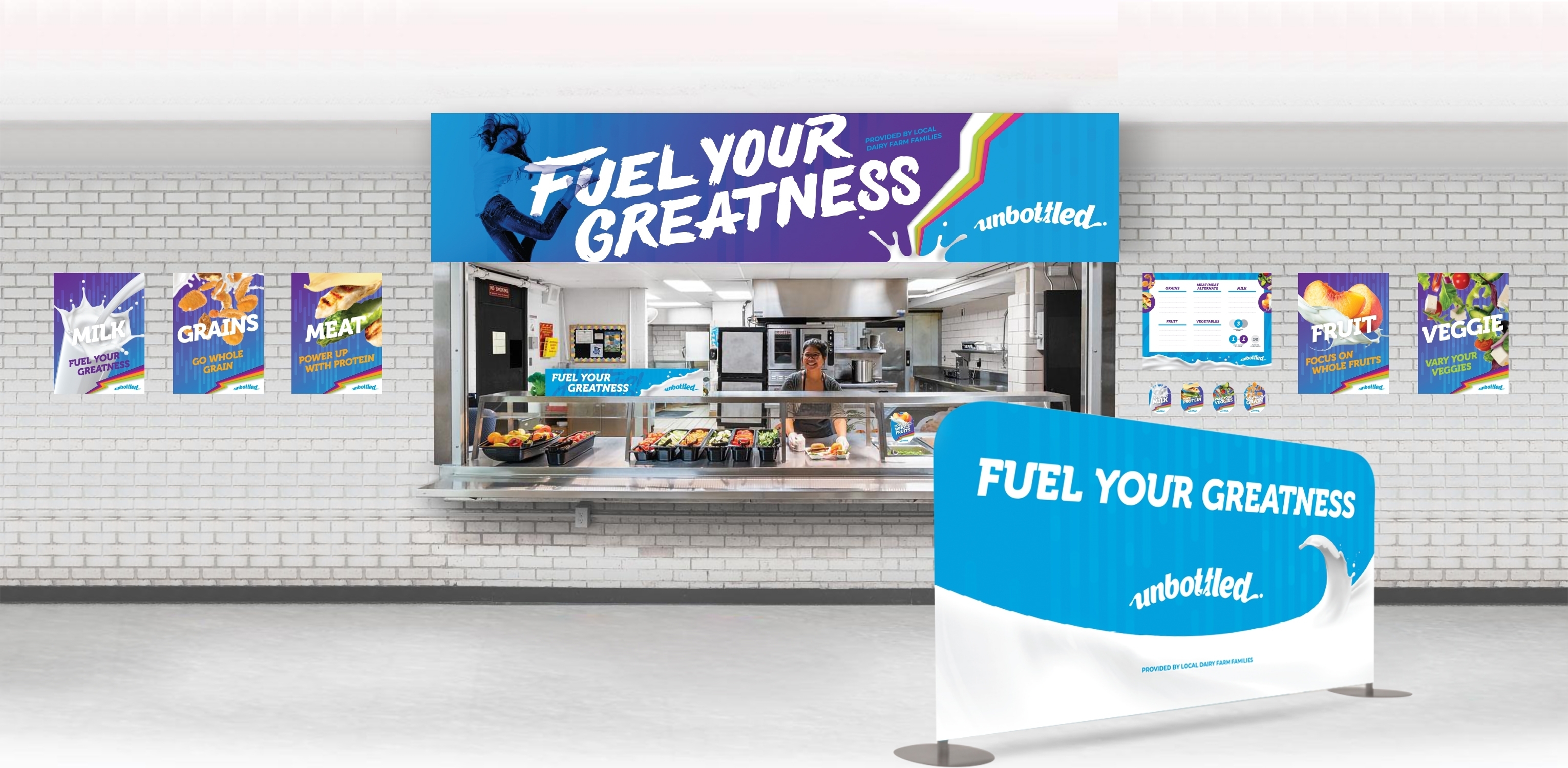 How Do We Partner with Schools?
Dairy West works closely with school districts to help expand participation and programs. Whether you are thinking of adding a breakfast program, a smoothie line, or are focused on merchandizing milk for higher consumption, we are ready with resources to help. Take a closer look at how we have partnered with schools throughout Utah and Idaho.
Shadow Butte Elementary
Idaho was one of five states to receive a recent No Kid Hungry grant to begin a breakfast in the classroom program. Dairy West teamed up with the State Child Nutrition Department and other stakeholders to work with Shadow Butte to implement breakfast after the bell. After only a few weeks, the results show the impact that breakfast has on our students:
Participation increased from 25% to 83%
Behavior referrals went down by 16%
Inappropriate behavior was down 55%
Read More



Looking for a fun way to communicate with parents or students?
Take a look at our templates. These backgrounds are available in three sizes to fit every platform you may need. Need more help putting these into action? Contact your Dairy West Consultant!


Breakfast Champion Videos
There's a reason they say breakfast is the most important meal of the day, and we work with schools to ensure students receive the benefits of breakfast.
Breakfast Champion Videos
School Lunch Heroes
Thank You School Lunch Heroes
How do we adequately say thank you to school lunch heroes who put in countless hours, sacrifice time with family, and pack love into every meal they serve?

We thank you for feeding our children, impacting our families, and making the world a better place amidst the world pandemic. You are giving children nourishment for their bodies and souls. We hear stories of the excitement children feel to be "back at school" even if it is only from a distance. You have lifted financial burdens and calmed the frayed nerves of parents and families. The nation is taking notice of the superheroes we have right in our communities' schools. What you do matters! In a world that has in many ways shut down, you are essential to our families and community. We appreciate you and all your hard work!
We recently featured local School Lunch Heroes on our social media platforms for National School Lunch Hero Day. Check out our Facebook and Instagram posts!
School Foodservice COVID Support:

More than two-thirds of students who regularly eat school lunches depend on a school meal as the main source of their daily nutrition. As school districts across Idaho and Utah navigate ways to get meals to students during school closures, Dairy West is stepping up to help. Most of the districts in the region are choosing to serve food either curbside for drive through pick up or via drop-offs on bus routes. Dairy West has helped provide school districts with equipment to help keep their milk and other foods at proper temperatures for these initiatives. Since the start of the pandemic, Dairy West partnered with:
142 Different School Districts
980 Feeding Sites
Together, we are helping to provide over 1.8 million meals a week.

Looking for Additional Resources
Idaho Breakfast Cohort
Dairy West is working closely with the Idaho State Department of Education and No Kid Hungry to expand breakfast at chosen pilot sites. Participation in this program has increased at all of the pilot schools. New pilot sites will be chosen by the Breakfast Cohort as Dairy West continues efforts to expand Breakfast After the Bell in Idaho. For more information, visit the ISDE website.
Learn More
Utah Start Smart Website
Dairy West partnering with the Utah State Board of Education, No Kid Hungry, and the Utah Breakfast Expansion Team to change how school breakfast looks across the state. This team has worked to make breakfast available for all schools. Breakfast After the Bell has been added to many Utah schools, with more to come. For more information, visit the Start Smart Utah website.
Learn More